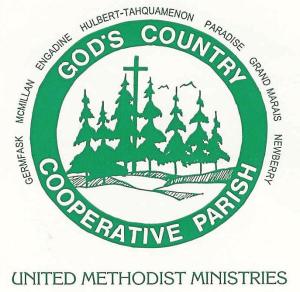 The God's Country Cooperative Parish is in the eastern part of the Upper Peninsula of Michigan. It covers a 2500 square mile area from Engadine near Lake Michigan, up to Paradise at Whitefish Bay, to Grand Marais on Lake Superior's south shore and encompasses McMillan, Germfask, Newberry and Hulbert. Although it is located in some of the most beautiful country you could ever hope to see, the isolation, extremely harsh long winters, and scarcity of jobs bring real challenges to these churches and the communities they serve. Unlike our more densely populated areas where you might find another United Methodist church within a few miles, these churches can be up to 100 miles from their sister churches in the Cooperative. Yet these seven communities of faith combine their resources, share their faith and, through their active presence, work to bring self esteem, hope and faith to all God's children throughout their vast parish. 
The formation of God's Country Cooperative Parish came about because of necessity. During the 1960s and 1970s, the seven churches that now make up the Parish were served by only two pastors. One served Newberry and Paradise, and the other served all five churches of the "McMillan Charge" – McMillan, Engadine, Hulbert, Germfask and Grand Marais. These seven churches covered five counties, five school systems, five funeral homes, at least nine cemeteries, four hospitals, two regional hospitals, and several nursing homes. The first seeds of the Cooperative Parish were planted by Pastor Audrey Dunlap, Rev. Ralph Edwards, District Superintendent John Grenfell Jr., and Field Worker Rev. John Huhtala. Many meetings between any or all of these four took place in 1976 and 1977. Ideas were bounced around and support for the idea of some type of cooperative ministry began to grow.
On August 13-18, 1980 a meeting was held at the Hulbert church which called for a plan to secure final approval of all seven churches individually to form a Cooperative Parish. The Administrative Boards of each church, according to a previously set policy, had to provide their approval in the minutes of their meeting to make it official. At this special meeting in Hulbert were the Rev. Robert Davis (Conference Parish Developer), Larry Brooks, David Campbell, Audrey Dunlap, and Dave Hill who was the "Director-to-be".
September 7, 1980 – all seven churches had given their approval and the birth of this Cooperative was accomplished.
Each church paid a percentage of this budget.
At the Advisory Committee meeting on November 22nd, 1982, a plan was developed to name the Parish. At the time it was still called the "McMillan-Newberry Coop". A contest was designed and held in all seven churches. The contest came to an end on January 9th, 1983 with the judges selecting the name "God's Country Cooperative Parish". Dr. James Terrian of the Newberry church received a Jerusalem Bible for his winning entry.
The God's Country Cooperative Parish had become a reality.